SPAS/LAW/SAS 12 and SPAS 15 Replacement Receiver Shock Absorber
---
Technical Details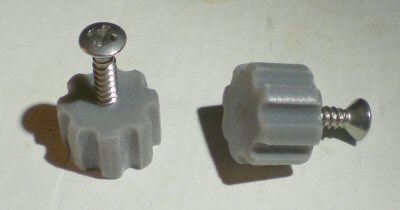 New Style -- actual screw is much smaller
This sytle also fits the SPAS 15.


Old Style -- actual screw is much smaller
(For more help on deciding which you have, see Common Repairs)
The factory parts were likely molded of Cast Nylon 6. This is about the best material if you are going to mass produce by molding parts. It has an impact strength of around 0.4 ft.-lbs./in. and hardness of around Rockwell R115. There are some white replacement parts being sold for $8 that will also break up over time, just like the factory parts.
Since we are machining each part, we can use a much better material. The new parts are made of Ultra High Molecular Weight (UHMW) Polyethylene. This material has about the highest impact strength of any plastic at any price -- and what we want is Impact Strength.


Impact Strength -- The ability of a material to withstand shock loading. Determined by the notched Izod test, which measures the effect on a
material when it is suddenly impacted by a swinging pendulum. A larger number signifies greater impact resistance.
Note almost four times the impact strength of "unbreakable" Polycarbonate. One Hundred times the impact strength of Cast Nylon. I will offer a lifetime warranty against the part splitting or shattering.
I am using a special type called Oil-Filled UHMW Polyethylene. This has oil impregnated within the Polyethylene. This actually doubles its tensile strength and lets it survive down to -450° F. The oil helps to make anything contacting slides and does not stick and dig in.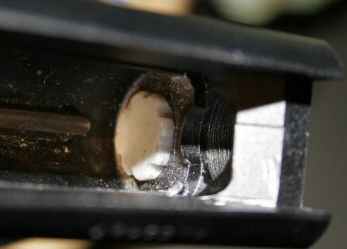 This does not need the metal load spreading steel disk on the factory part. The "old style" had no disk, but often broke up. They added the disk to the new part to try and get their Nylon to survive. The superior material I am using will not break up under any circumstances and needs no disk. Also, the new part is held in by a stainless steel screw from the other side rather that the "tit" that always broke off. The "tit" helped with quick mass assembly -- the screw will last much longer.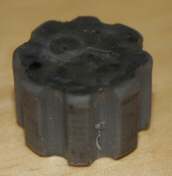 The prototype is back from testing (90 high-powered loads, thanks Oscar!) and it worked perfectly. Notice the slight mushrooming of the unsupported portion. This shows plenty of shock absorbing was going on.

---
Installation
Please see Receiver Shock Installation.
---
Old-Style vs. New Style
Be sure you determine which part you need -- the new-style or the old-style. Look here for details.
---
Purchase
New-Style
The cost is $49.95 plus S&H
Old-Style
The cost is $44.95 plus S&H
Shipping and handling is a flat rate of $8.00 per order to anywhere in the USA, sent via USPS First Class Mail (2-5 Days).

YOU MUST READ THIS LINK BEFORE ORDERING: THE STORE

---
Yes, we use PayPal as our payment processor. No, you don't have to join PayPal. It's just like any other web-order or mail order. You give your name, address, and card info, and they bill you.

---
Comments? Questions? Additions? Corrections?
©2005,2009,2011