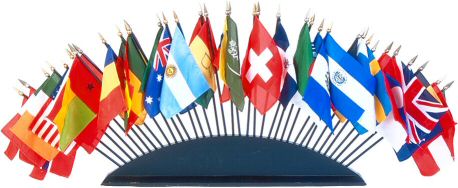 International Shipping
---
I do ship Internationally with a few exceptions. Sì, spedisco all'Italia!
I'd rather not ship internationally, it can be a big hassle. But you all need parts too.
NO SHIPMENTS TO APO OR FPO ADDRESSES, NO EXCEPTIONS
(The USPS Computer Screws Them Up -- I've lost a fortune)
If a package is returned for any reason not my fault, I will refund less the shipping costs, and less any postage due when it is returned.
If any customs duties are due, you must take care of them. I will be kind of vague as to what is in the package, but I must declare the correct value or I won't get my money back if they lose it.
Important: Everything has gone smoothly through customs so far except for a shipment to London, England. It was a $60 order and they wanted £10.84 in Value Added Tax and a £13.50 Handling Fee. This can happen in your country, out of my control.
If it is seized or lost by your customs, it will not be replaced. My insurance won't pay for this.
All shipments are F.O.B. Kettering, Ohio 45429 USA.

---
Costs
Good news!! Our post office has started offering first class mail parcels that have tracking!! No more Express Mail.

I do have to enter each shipment by hand at USPS, PayPal won't sell me First Class Package International. And I must fill out the customs paperwork, list each part, each weight, each value. Then I have to personally mail these packages., they want to make sure I'm not a terrorist.

So, if the actual postage cost is not more than $10 (almost always is), the total handling & shipping charge will be $30.
If my postage cost is more than $10, I will contact you.

| | |
| --- | --- |
| Maximum Postage | $10 |
| International Handling Fee | $20 |
| | |
| TOTAL: | $30 |
To tell you the truth, these international shipments are tedious, and I don't like waiting in line at the Post Office. But you folks need parts too.

---
Comments? Questions? Additions? Corrections?
©2005,2006,2007,2008,2009,2009,2010,2011,2012, 2014