SPAS, SAS, and LAW Folding Stock Bumper
---
Bumper
This is a small rubber that fits in a small hole in the folding stock assemblies that do not latch on the rear sight. This would be all LAW12's, all SAS12's, and some SPAS12's. This is not the big black Folding Stock Shock Absorber. This stops the folding stock from hitting the top of the gun when it is folded.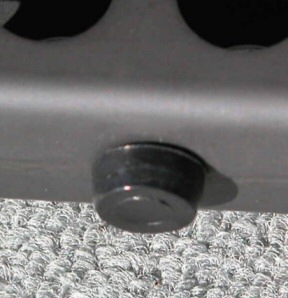 The part I have available is not the factory part, which was made from rubber and tends to crumble away. This is made of neoprene and should last a bit longer. It looks exactly as shown below -- it is missing a few decorative grooves that the factory part has
.


The cost is $1 each.
Shipping and handling is a flat rate of $8.00 per order to anywhere in the USA, sent via USPS First Class Mail (5-14 Days).

YOU MUST READ THIS LINK BEFORE ORDERING: THE STORE
---
Shop Without Sharing Your Financial Information
When you pay with PayPal, your credit card and bank numbers are never seen by the seller or merchant. Your financial information stays safe. Plus, you're protected 100% against unauthorized payments sent from your account.
Yes, we use PayPal as our payment processor. No, you don't have to join PayPal. It's just like any other web-order or mail order. You give your name, address, and card info, and they bill you. While some sellers have beefs with PayPal (Lord do I ever) -- no buyers have ever been upset with them.

Back to SPAS Technical Information

---
---
Comments? Questions? Additions? Corrections?
©2008,2009,2010