SPAS/LAW/SAS 12 Choke Adapter

---
Franchi Choke Adapter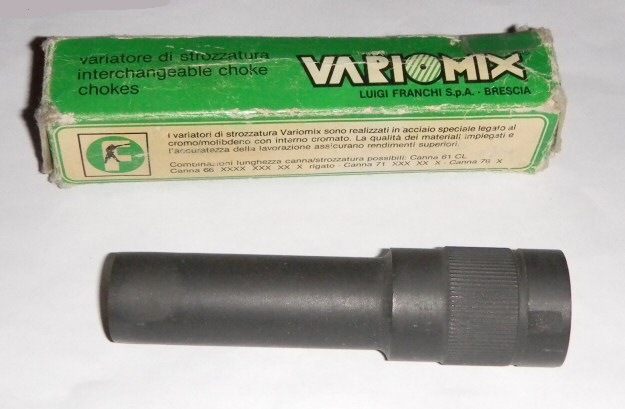 This is what a genuine SPAS Choke looks like. It screws on the end of the barrel after removing the thread protector. It extends from the end of the barrel and actually lengthens the barrel. This is the opposite of most choke tube systems that install inside the end of the existing barrel.
They have the same advantage as "sporting clay" tubes in that the can be quickly changed in the field without tools. They have a big disadvantage -- you can't buy them anymore.
Original Choke Adapter
This is the adapter I was making. It was made from Franchi parts so it looked a lot like a Franchi choke tube. But the parts are no longer to be found, and it took a lot of work. They did cost $189 and are no longer available.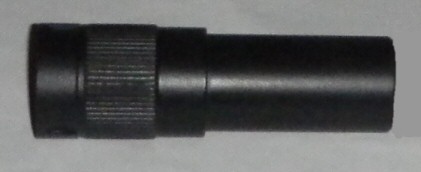 New Choke Adapter
This is the new Choke Adapter. It is made of steel in one piece on a CNC lathe and has a much thicker wall. It will take most tubes made for ITHACA, BROWNING, WINCHESTER, WEATHERBY, S & W, SAVAGE, RUGER, MAVERICK, and MOSSBERG shotguns, or any 13/16x32 thread tube. The adapter must be used with a choke tube installed to protect the internal threads, just like any other shotgun.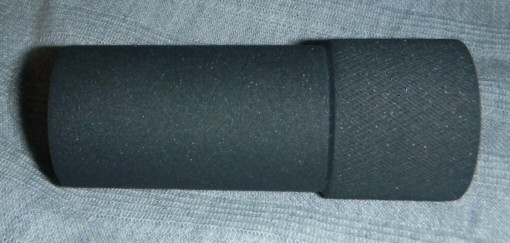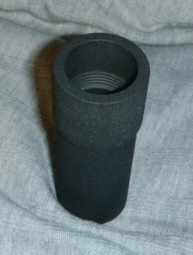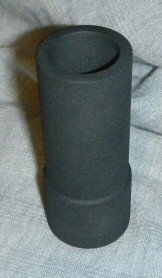 The finish is a flat-black Parkerized finish (notice the glare from the two above). It looks gray here and it has picked up some specks of white lint on it in the photos -- it is flat black.
This will be much more sturdy than my orginal look-alike adapter, and -- the good news -- is only $149.

---
PURCHASE
The cost is $149.95 each


---
Shop Without Sharing Your Financial Information
When you pay with PayPal, your credit card and bank numbers are never seen by the seller or merchant. Your financial information stays safe. Plus, you're protected 100% against unauthorized payments sent from your account.
Yes, we use PayPal as our payment processor. No, you don't have to join PayPal. It's just like any other web-order or mail order. You give your name, address, and card info, and they bill you. While some sellers have beefs with PayPal -- no buyers have ever been upset with them.

---
SABOT ROUNDS!!
My favorite use for the adapter is a rifled tube for discarding sabot rounds! Why buy a .30-06 when the SPAS will hit just as hard, penetrate just as deep, and hit almost as accurately.
It is essential that a Sabot round be spinning when it leaves the barrel.
The round must be spinning to stablize it in flight.
The rounds typically used are discarding sabot rounds, they discard the plastic jacket after leaving the barrel. Centrifugal force will cause the plastic sabot pieces to fly off the round. If they stay on the round they can cause much drag -- and when jjust one falls off first, the round will not go straight.
Several makes of rifled tubes will do this job nicely. I recommend one, a huge 5" model from Hastings (below).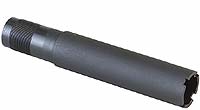 SDI 12

---
CHOKES
It will take all the normal range of choke tubes: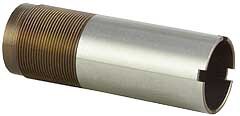 It will take tubes that are flush with the end.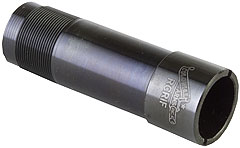 It will take tubes that extend from the end of the adapter.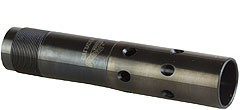 It will take most of the exotic tubes like this ported recoil reducer.
The ID of the Franchi barrel is not what a US (or Winchester) barrel would be. The Europeans tend to make their barrel ID smaller than the US standards -- their Cylinder Bore barrel will gauge somewhere between "3/4 Choke" and "Improved Cylinder."
What does this mean? It means that as soon as the shot or shot cup or slug or sabot leaves the end of the SPAS barrel, the ID will jump up a tad at the start of the Winchester choke tube. If a full cylinder tube was put in, the OD would remain at this larger number to the end of the gun. If a Winchester tube such as full choke is installed, the ID would step up at the start of the tube, but then squeeze down on the load.
So the effects of simple choke tubes will be less than what you had wanted, you will need to experiment.
---
RIFLED SABOT DISCARDING CHOKES
I'm going to try to put up some links for rifled tubes that fit this adapter.
Note that some work with sabots and slugs, and some only work with sabots.
Lastly, some "rilfed" tubes have straight rifling. While this helps with shot at a Turkey Shoot, it won't help a sabot. I don't show those.
(Pronounced "say-bow")
---
This Hastings tube is the best you can buy for sabot use. The rifled steel choke tube effectively and consistently separates the sabot from the bullet at the same point every time for improved performance. Without any spin, the plastic parts will stick to the bullet and fall off randomly, steering the round every-which-way.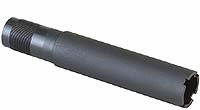 Also works great with all lead slugs. (Not recommended for use with Remington Copper Solid ammo.) Made to the same internal specifications as Hastings premium, rifled barrels. It is called Paradox rifling because it is both rifled and smooth bore at the same time. Rather than square grooves for rifling, it has raised smooth humps like an HK P7M8 barrel. The long length is needed because this type of rifling is "gentle."
SPECS: Steel, black oxide, matte finish. 5" (12.7cm) long, .900" (22.8mm) O.D. Looks awesome on the end of your SPAS. They retail for around $57.95.
I can no longer buy these from my wholesale distributor, so it is best you buy them yourself.
---
Our friends at Carlson's not only have the only SPAS parts inventory -- they are really a choke tube maker, and make a very nice unit.

These precision Rifled Choke Tubes are manufactured from 304 high stress stainless steel. Each choke tube protrudes .625 to 1.3 inches from the end of the barrel depending upon which type of firearm the choke tube has been specifically designed for. Each choke tube has a right hand rifle twist, which is 1 to 35. Each choke tube has a groove diameter of .730 of an inch in 12 ga. These choke tubes have a matte black finish and carry a lifetime warranty. If you're looking for improved accuracy from a smooth bore barrel these fine choke tubes will improve your groups.
To fit Winchester, Browning Invector, Mossberg 500
PRICE: $34.95
---
Colonial Arms makes this one:

Twelve broach-cut lands and grooves stabilize all types of slugs for a tremendous increase in accuracy over smooth bore barrels.
SPECS: E.D.T. 150 steel, blued.
$49.50 Model 12-IVRIF

They also make this nice ported extension.

---
Lastly, Winchester makes a nice one for sabots only, a very capable tube: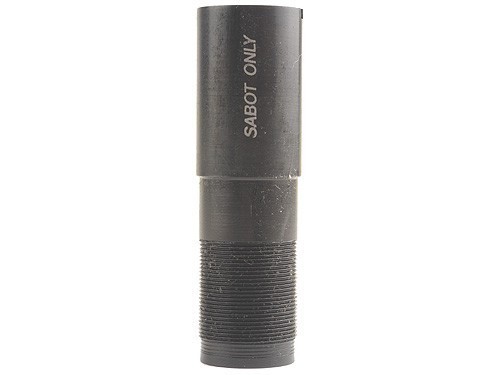 WINCHOKE SABOT RIFLED
Item Number: 6130173
U.S. Suggested Retail: $60
---
Comments? Questions? Additions? Corrections?
©2005,2006,2010