Franchi SPAS15

---

This was the SPAS12 (& LAW and SAS) website, but finally enough information has accumulated to create a page just for the SPAS15.

I've never seen one in person, so I'm just passing on what I have been sent and told. Any of this could be inaccurate.

The original SPAS12 was based on an old Franchi shotgun receiver. Franchi had designed a whole new gun in the SPAS15, keeping many of the SPAS12 features such as selectable pump or semi-auto operation. They added new features such as the pistol grip safety. And most noticeable of all, it had a stacked detachable magazine instead of the standard tubular feed.

Note these original stocks do not fold, and the wood one (above) attaches directly to the receiver. In the pictures below you will see this changed on guns actually shipped.

Then the ATF came along and decided it wasn't suitable for sporting purposes (and the SPAS12 too) and banned further importation. Only about 100 -180 were imported before the ban, making them rather rare and currently priced in the many thousands of dollars.


SPAS15 with Metal Stock, Original Design with 17.7" Barrel




SPAS15 with Wood Stock, Original Design with 17.7" Barrel
---
Barrel Length
The factory brochure says it has a 450 mm barrel, which works out to 17.7", which wouldn't be legal in the USA. This is the length shown in the above images. Most were imported to the USA with a 21.5" barrel. Somewhere between 4 to 39 were a rarer 18.5" barrel version. Those imported to the UK had to have a 24" barrel to be legal. Images of these lengths are below.
---
Magazines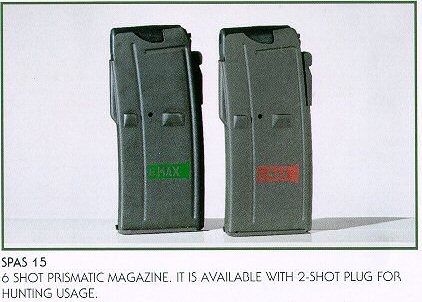 The magazines held 6 rounds, and could be plugged to only hold two rounds. Best I can tell, the Green above says 2 MAX, the Red says 6 MAX.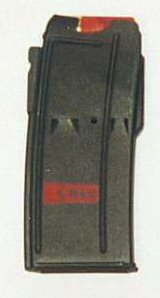 In the UK they actually crimp the magazine to only hold three rounds to be legal there.
---
Functional Details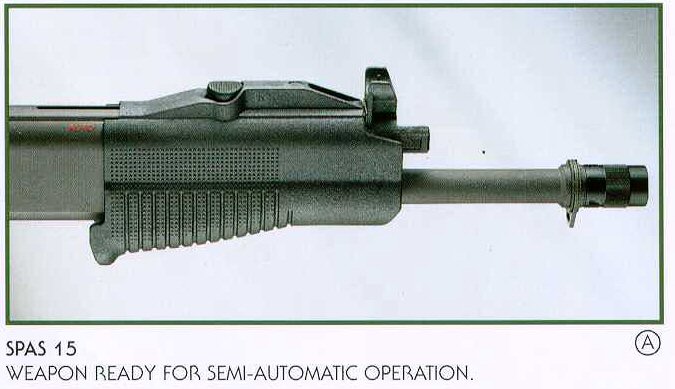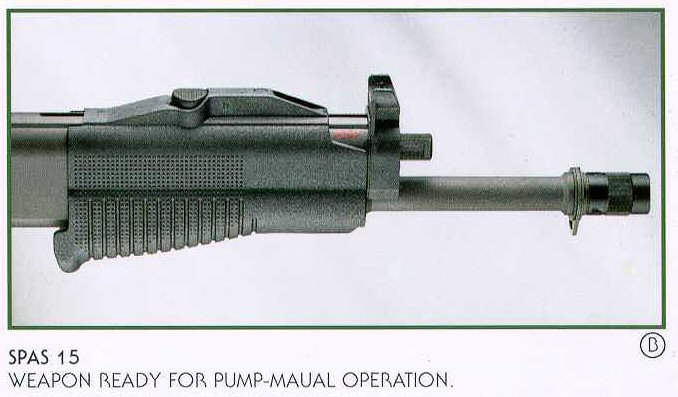 Just like the SPAS12, the front grip can be shifted to put the gun into Semi-Automatic Mode or into Pump Mode.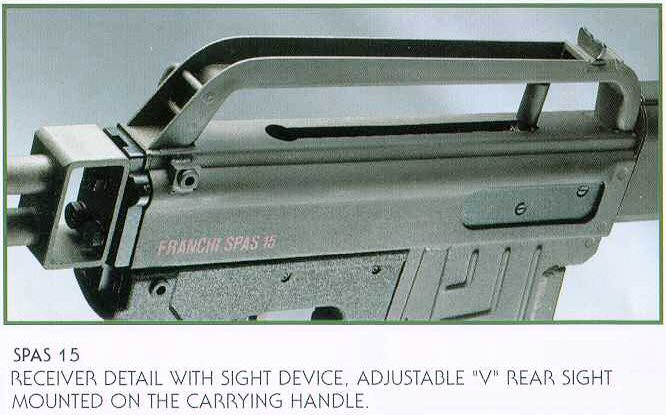 Note that the bolt handle has been moved on top so it can't be snagged or hit your hand, and a Carrying Handle has been added.
Also note that there is no way for this stock to fold.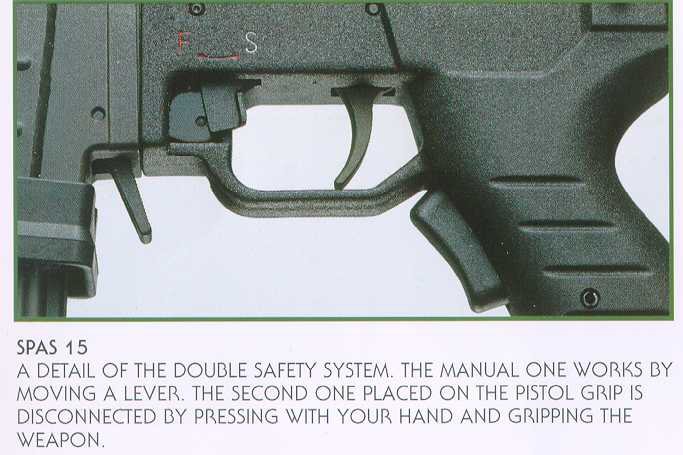 This is one of the more interesting details. There is a manual safety where the so-called "rapid deployment safety" (slide unlock) was on the SPAS12.
Plus, they have added a grip safety which must be depressed to fire.
---
Manuals and Articles
Check out the following:
Franchi Color Sales Brochure are available.
An article about it in SWAT Weapons & Tactics.

---
Pictures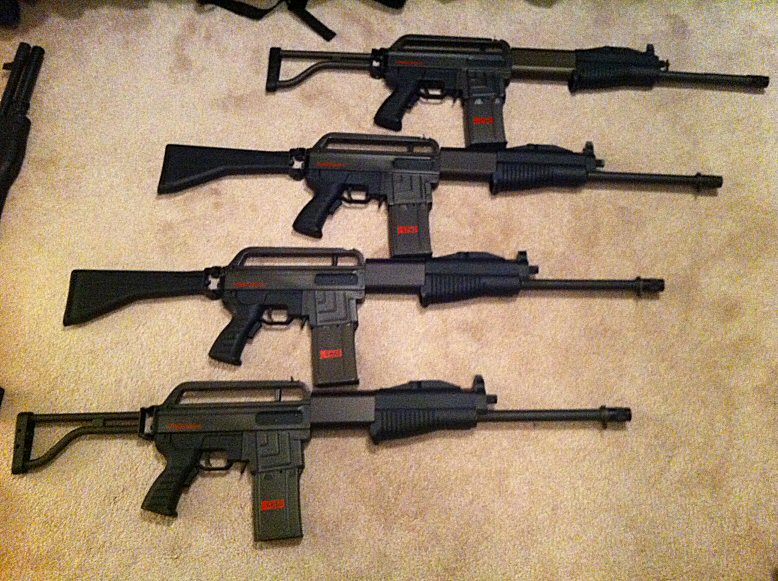 Here is a picture sent in by Chad O. to show all four of his and make us all feel jealous. :-) Yes, that is a SPAS12 off to the left.
These are all the USA 21.5" barrel version and have 6-round magazines.
Note the method of attaching the metal stock has changed, and two of the stocks are plastic. All of these stocks will now fold.

One of the above with the stock folded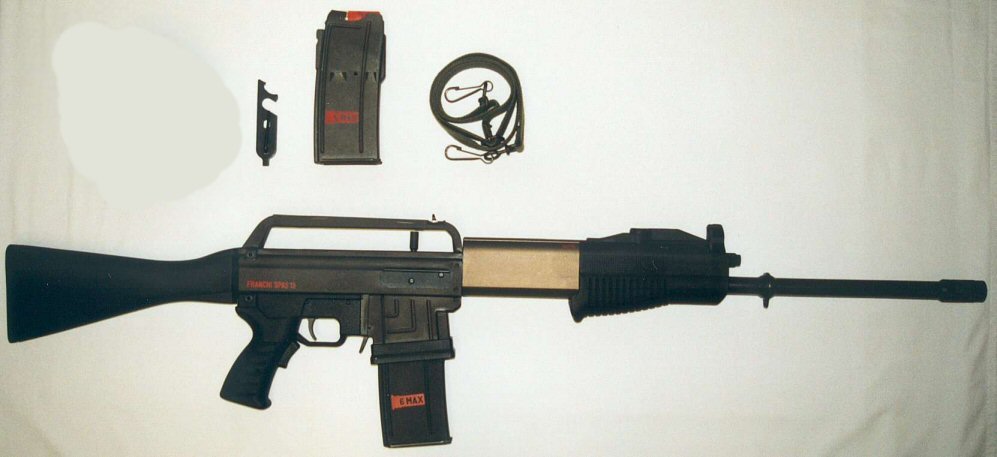 Here is the full package supplied to a UK user. Note the barrel has been lengthened to a full 24", the magazines have been crimped at 3 rounds, and the stock is mounted directly to the receiver so it cannot fold or detach.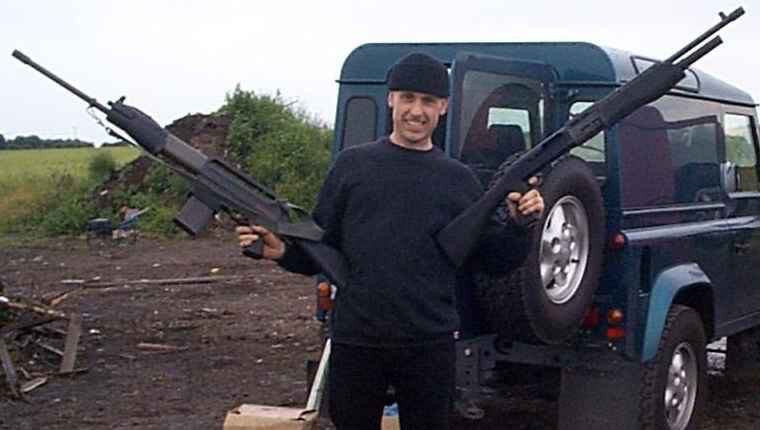 Lastly, a UK user with a 12 and a 15. Again, note the barrel lengths and the fixed stocks.
---
Comments? Questions? Additions? Corrections?
If any owner of any image or information used here feels their copyright is being violated, a single e-mail with documentation will get it removed. I hope everyone is proud to have their images here for the benefit of all SPAS owners. Chris does not make any money from these pages, in fact it costs him to have them. Private users without any financial motives have Chris's permission to copy and/or distribute without financial gain any SPAS information here.
©2011